Sign Up TODAY!
FREE no obligation consultation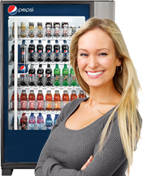 Peabody Vending Machines and Office Coffee Service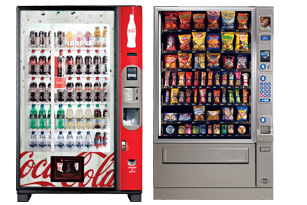 Peabody businesses count on the reliable, friendly service of American Food & Vending, and have done so for over thirty years. We have the vending machine options your Peabody business needs. Vending machines are installed for free, and can benefit your business with improved morale and productivity.
Employees will satisfy their food and beverage needs without leaving the business, cutting down break times. Vending machines create a common meeting area where ideas can be exchanged and employees can get to know each other by name and face, not just faxes and email.
In Peabody American Food & Vending offers:
Coca Cola vending machines
Pepsi Cola vending machines
Candy vending machines
Snack vending machines
Coffee vending machines
Cold and hot food choices from vending machines
Healthy food, snack and beverage selections dispensed by vending machines
The latest quality vending equipment
Your Peabody business can relax and enjoy our coffee service also:
Equipment from Bunn and Newco
Wide variety of coffee and tea flavors and brands
All the essentials like cups, filters, creamers, sweeteners, napkins, etc
Fully stocked, ready to serve!
American Food & Vending also installs water purification onto your existing Peabody water source. No more water bottles!
(800) 553-2222. A call is all it takes to get started!