Sign Up TODAY!
FREE no obligation consultation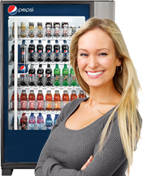 Quincy Vending Machines and Office Coffee Service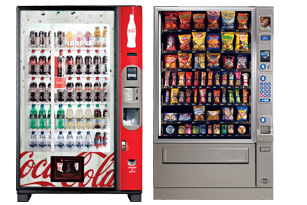 For over thirty years, American Food & Vending has been providing exceptional service and delicious products to its Quincy customers. Vending machines just make good business sense. They can be installed for free, come loaded with all kinds of different food and beverage options, and they keep your employees in your Quincy workplace, improving productivity by cutting down on break times.
Your Quincy business has some great choices in vending these days, all dispensed by state of the art vending machines that we maintain, stock, and keep as clean as possible. Vending machine options include:
Vending machines filled with Pepsi Cola products
Coca Cola products
Healthy snack and beverage selections
Vending machines with traditional snacks
Hot and cold food vending machines
Candy vending machines
Coffee and other hot beverages like tea and hot chocolate
Another service that we provide to Quincy customers is our Coffee Services. Never will you have to send somebody out for supplies, listen to complaints about the items you don't have, and deal with keeping the break room organized, again. Our professional staff will keep you stocked with coffee, tea, hot chocolate, filters, cups, napkins, stir sticks, sweeteners, and creamers. We have the best equipment available from Bunn and Newco, as well as Victor coffee products. So give up the battle, and let American Food & Vending take over the coffee service at your Quincy business today!
American Food & Vending also installs water filtration systems. Change that Quincy tap water into some great tasting water you can be proud of!
Call us at (800) 553-2222
American Food & Vending serves Quincy and surrounding areas and has since 1980.